As we grow older, it's natural to start thinking about future living arrangements and deciding where we want to enjoy our retirement years.
Many seniors begin to consider retirement communities while they're still independent; advance planning can help ease the transition to a senior living facility, and secure the best living space for their lifestyle!
Every senior living neighborhood is unique, and each facility offers different benefits and amenities.
When searching for a retirement community, you should make sure each property includes:
Flexible support for changing senior care needs
Abundant social opportunities
A facility that encourages an active lifestyle for seniors
Well-curated amenities
Pricing that works with your budget
It's easy to feel overwhelmed when searching for a retirement community; there are many options and amenities to consider. How do we choose one facility over another?
At The Villages at River Club, we recommend making a list of the attributes that matter most to you and your family, and using that list to find your future retirement community.
Below are a few factors you'll want to consider when choosing a retirement community.
Location
Where do you picture your ideal senior living community? Are you:
Interested in living in the city, close to sightseeing and shopping?
Looking for a quieter, more rural setting?
Wanting an active lifestyle, close to the ski hill or golf course?
Hoping to find a facility close to family and friends?
If location is an essential factor in choosing a retirement community, make sure it stays close to the top of your list!
Budget
Seniors should consider their budgets when choosing a retirement community. Senior living communities often include a number of the following services in the monthly pricing, such as:
Fitness programs
Wellness programs
Activities and events
Meals
Snacks
Transportation (private or group)
Outings
Emergency services
24-hour security
Medical personnel available onsite
Housekeeping
Laundry services
Wi-Fi
Cable
Telephone
Heat
Electricity
If your monthly budget is an essential factor when choosing your retirement community, reach out to the facility directly and find out the exact monthly cost, and the services and amenities included.
Having a firm idea of the price will help you decide if a potential facility is the right place for you.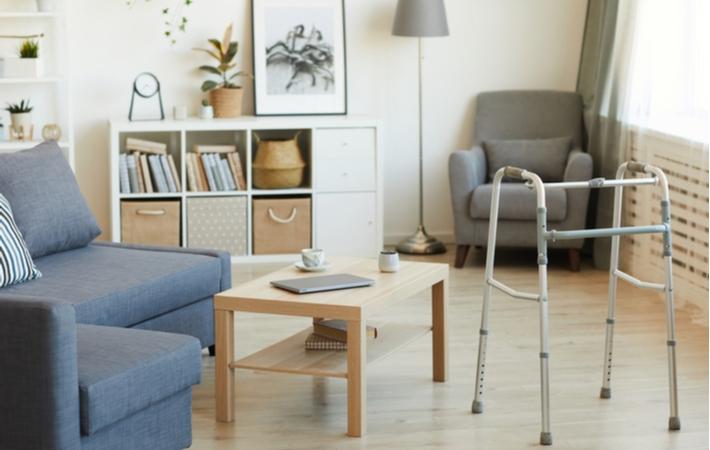 Accommodations
What type of accommodations are you looking for in a potential retirement community? Are you interested in apartment living, a private suite, villas, or are you looking to downsize and share your space with a roommate?
What kind of living space will suit your lifestyle and budget? Senior living communities offer a wide range of neighborhoods and accommodations, and most will gladly share details about their available floor plans and offer tours to potential residents.
If living space is essential to your wellbeing, you'll want to ensure that accommodations stay at the top of your list when searching for a retirement community.
Level of Care
When choosing a retirement community, it's crucial to consider your current and future health care needs. Every senior living facility offers differing levels of care, and some will provide flexible support options for residents as their needs change over the years.
Here are 2 popular levels of care in a retirement community:
Independent Living: Independent living is designed for seniors with little-to-no care requirements.
Retirement communities offering independent living may include meals, amenities, events, and housekeeping, with third-party medical services provided at an additional cost.
Assisted Living: Assisted living is designed for seniors who require support with the activities of daily living. Residents receive assistance in areas like dressing, hygiene, and medication management.
If you have specific medical needs or anticipate you will require support in the future, you'll want to choose a facility with flexible care options.
Amenities
Every retirement community is unique, and the same goes for the residents; everyone will find different events and amenities appealing. The key is finding a flexible community with similar ideals and interests.
Are you looking for an active, health-focused environment? A creative and inspired art program? Engaging debates about literature? Likeminded explorers, who've been bitten by the same travel bug? A gourmet kitchen where all your foodie-related dreams will come true?
If amenities are at the top of your list when exploring potential retirement communities, reach out to each facility to discuss their amenities and determine if their offerings match your interests.
A Personal Choice
When building your list of potential retirement communities, remember that no community will have precisely what you're searching for, and you may need to weigh your options before making a decision.
You'll need to decide what matters most to you and your family, research a few facilities, and make a choice based on the most ideal options.
If you need some advice about choosing a retirement community, contact our team at The Villages at River Club. We're passionate about senior living, and want to make sure that everyone enjoys their retirement years to the fullest.
We have a wide variety of resources available, and our knowledgeable staff can guide you towards the best options available for your future. Contact us today for more information!