In today's world, staying connected with your loved ones is more important than ever. Senior living communities are a great way for seniors to stay engaged and meet new people, but technology is virtually essential in keeping us connected with our loved ones when we're not face to face.
Technology can sometimes seem like it's too confusing. And for seniors who didn't grow up with modern devices, it can seem exceptionally overwhelming. But it doesn't have to be. We're here to help you choose the perfect cell phone that suits your needs, like the:
Motorola Moto G
Jitterbug Flip
Jitterbug Smart 3
RAZ Memory Cell Phone
iPhone 14 Plus
Verve Snap Flip Phone
Nokia XR20
Samsung Galaxy XCover Pro
Doro 7050
Google Pixel 6
These each have their own benefits, making them ideal for seniors looking for an easy-to-use and effective cell phone.
How to Choose a Cell Phone for a Senior
When choosing a cell phone for seniors, there are some key features to keep an eye out for. Remember: it doesn't have to be a technological wonder or an electric powerhouse. Instead, it needs:
A large, clear display
Large print default text
A long battery life
Large buttons
An easy-to-use interface
By thinking about these things, you can make an informed purchase and get your loved one a cell phone that truly suits their needs. And if they're experiencing cognitive decline or memory impairment, don't worry—there are options for that!
1. Motorola Moto G
The Motorola Moto G is a rugged, reliable phone. It offers a large, clear screen and simple navigation. This phone doesn't complicate a thing.
Instead, it focuses on the essentials and doesn't skimp on quality. It has a long battery life, a high-definition display, and an incredible camera.
If your loved one is more traditional, and doesn't want anything too fancy, this is the phone for them. It even comes with a stylus for writing notes, using the interface, and making adjustments to whatever they need. This blend of durability and manual note taking can make it an incredible option for a traditional senior looking for a cell phone.
2. Jitterbug Flip
The Jitterbug Flip is a classic choice for seniors who prefer a simple, easy-to-use flip phone. With big buttons and a bright screen, it's a breeze to stay in touch. This phone is simple—it's easy to use, it's highly visible, and it also includes a voice command feature.
This can make it a helpful tool for seniors who don't want the fuss of typing everything—instead, they can use their voice to tell their phone what to do to make everyday tasks much easier. This is especially beneficial for seniors who may struggle with small buttons or navigating complex interfaces.
The voice command makes making calls, sending texts, or even searching the web as simple as speaking a command. This phone truly tailors to the needs of seniors.
3. Jitterbug Smart 3
For seniors who like the sound of an easy-to-use phone with a touch screen, the Jitterbug Smart 3 is the place to look. It offers a larger screen for easy viewing and a simple menu organized in a single list.
The Jitterbug Smart 3 merges simplicity with modern design, providing a comfortable transition for seniors eager to embrace touchscreen technology. The phone's voice-typing feature allows seniors to send texts or compose emails without needing to tap on the screen—which can be extremely beneficial for seniors dealing with dexterity problems or arthritis.
The Jitterbug Smart 3 also boasts a long-lasting battery, ensuring users won't have to worry about constantly recharging. It even comes with a built-in 5Star Urgent Response button, providing seniors with immediate access to help when they need it.
4. RAZ Memory Cell Phone
Memory impairment can be a difficult condition to manage. But the decline in cognitive function doesn't mean your loved one can't stay in touch with their friends and family.
The RAZ Memory Cell Phone understands the need for simplicity. With photo speed dial and just a few essential features, it's perfect for those who want a no-fuss option. The phone even comes with a built-in emergency response button, giving seniors the peace of mind that help is just a push of a button away.
One of the best features of the RAZ Memory Cell Phone, though? It has a remote monitoring feature, allowing family members and friends to check in on their loved ones from a distance. This makes it possible to keep track of the phone's location and status, ensuring that if anything unexpected happens, your loved one can get help immediately.
5. iPhone 14 Plus
Apple is well-known for making revolutionary, high-tech phones with innovative features. And the iPhone 14 Plus is no exception. The user-friendly design offers effortless navigation for seniors, and the VoiceOver feature makes this even easier.
It can provide descriptions of what's occurring on the screen, and the customizable settings let seniors personalize their phone to truly represent their personality. It's versatile, effective, and high-quality.
This phone can be ideal for seniors interested in technology and has a long-lasting battery, so there's no need to constantly keep a charger on hand.
6. Verve Snap Flip Phone
The Verve Snap flip phone offers a perfect blend of simplicity and reliability. It's a sturdy, trustworthy option with:
Large keys
A bright, clear display
An easy-to-use interface
A high-quality camera
Simply put, it's an easy-to-use device that makes communication effortless.
7. Nokia XR20
For seniors worried about durability, the Nokia XR20 is perfect. It blends a solid, simple design with a simple interface and wraps the whole package in the traditional Nokia durability.
The Nokia XR20 is designed to be a long-term companion. It can withstand drops, temperature extremes, and even water submersion up to 1.5 meters for 30 minutes. The large, responsive buttons are easy to use, even with gloves on, making it great for seniors who may have dexterity issues.
And the display is bright enough to be seen in direct sunlight, which lets seniors operate the phone in any environment. The phone offers a range of accessibility settings, including font size adjustment and high-contrast text, ensuring optimal readability for seniors.
The battery is extremely long-lasting, too!
8. Samsung Galaxy XCover Pro
The Samsung Galaxy XCover Pro is a rugged smartphone built to withstand harsh conditions while offering all the conveniences of a modern device. Its large, touch-sensitive screen can be used even with gloves, making it perfect for seniors who enjoy outdoor activities.
The phone's user interface is straightforward and easy to navigate, and it includes Samsung's Knox security platform, offering peace of mind with enhanced protection against malware and hacking threats. It also features a powerful camera that can take high-quality photos, making it excellent for seniors who want to capture moments with their loved ones.
And even better, it offers a long battery life and easy wireless charging, making it a versatile choice for seniors who might be experiencing dexterity problems.
9. Doro 7050
The Doro 7050 is a flip phone designed specifically for seniors. It includes a convenient emergency call button and an easy-to-read display, ensuring safety and simplicity.
This phone doesn't bother with any bells and whistles. It's quick, it's efficient, and it even offers hearing aid compatibility to ensure your loved one can clearly hear everything on the other end of the line.
10. Google Pixel 6
The Google Pixel 6 is a great option for seniors who want a more advanced smartphone. Its Call Screen feature filters out spam calls, which can be particularly helpful in today's age. And since the phone's made by Google, it comes with the built-in Google Assistant—a voice-activated virtual helper to make it easier to use the phone hands-free.
Whether sending a text, making a call, or searching for something neat online, the Google Pixel 6 blends reliability and technology together to make a helpful, easy-to-use phone that seniors can use without even touching it! If your loved one enjoys technology and wants to stay updated, the Google Pixel 6 is a strong candidate.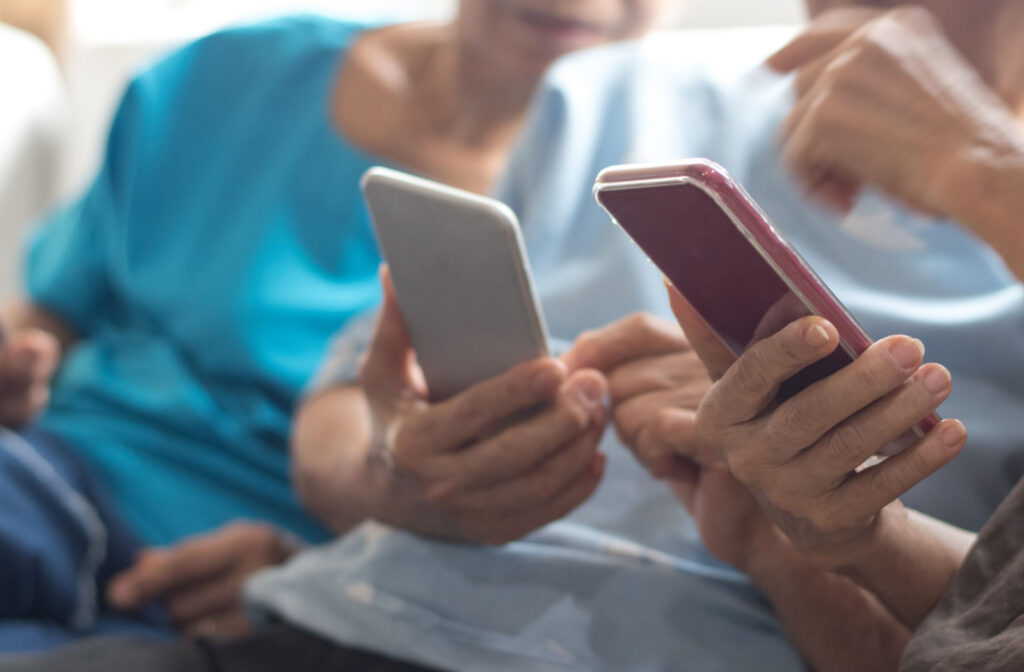 Communicating with Your Loved Ones
In this digital age, communication is key. These cell phones make it easier than ever to keep in touch with your loved ones. No matter where your loved one lives, it's possible to share more memorable moments with them from far away.At The Villages at the River Club, we're more than just a senior living community. We're a family, and we'd love for you to join us. So why not book a tour today?