As we grow older, it can become increasingly difficult to maintain the same level of social connections and activities we once had.
Life changes such as retirement, loss of loved ones, or physical limitations can make it harder for seniors to participate in the things they once enjoyed.
This can lead to feelings of isolation and loneliness, which can be incredibly hard to deal with. It's important to remember that we all need social connections of some level and a sense of belonging.
There are many ways to promote socialization and combat loneliness, whether it's encouraging seniors to attend activities, participate in social events, join clubs or groups, or simply strike up a conversation with a fellow resident
So, let's take a moment to understand the challenges that seniors may face and explore ways to help them stay connected and engaged with others to improve their quality of life.
Join a Social Club or Group
Joining groups that align with their interests can provide seniors with a sense of purpose and belonging. It can also give seniors an opportunity to meet new people and form meaningful connections. For example:
A senior who is interested in reading can join a book club
A senior who loves gardening can join a gardening group
A senior who enjoys playing chess can join a chess club
Volunteer
Volunteering can be a great way for seniors to give back to their community while also staying active and engaged. It can also be a way for them to learn new skills and meet new people.
Learning How to Use Modern Tech
Many seniors are now using social media and video conferencing to stay in touch with friends and family, even when they're unable to meet in person. These tools can help seniors feel less isolated and more connected to their loved ones.
Encourage seniors to use these tools, and if they need help setting them up, offer to assist them.
Make an Effort to Stay In Touch
It's important to be mindful of the seniors in our own lives and make an effort to stay in touch with them. This could be as simple as calling or visiting them regularly or even taking them out for a meal or an outing. Even small acts of kindness can make a big difference in someone's life.
Get Out in the Community
Staying active and getting out into the community can be a great way for seniors to socialize and stay connected. Here are some ideas that can help:
Attend farmer's markets, shows, or festivals
Walk through the neighborhood and say hello to everyone who passes by
Attend a local church
Play sports such as bocce ball, golf, or bowling
Join a supper or baking club and swap yummy treats with others interested in cooking or baking
Making Friends in a Senior Living Community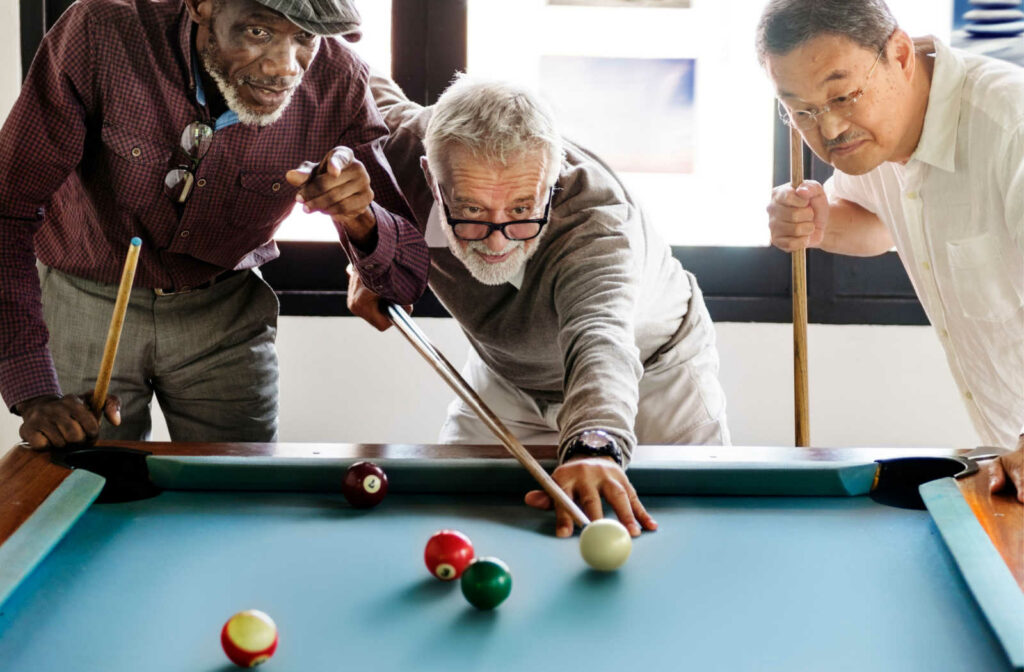 Group Activities
Many senior living communities offer a variety of activities and events that are designed to promote socialization and engagement. Encourage seniors to participate in these activities, such as game nights, movie nights, and exercise classes.
Meal Times
Many senior living communities offer meals in a communal dining area, which can provide an opportunity for seniors to meet new people and socialize. Encourage seniors to dine with others rather than eat alone in their room.
Bring a Friend to Activities
For seniors who may be feeling shy or hesitant to participate in activities alone, encourage them to bring a friend along. Having a familiar face with them can help them feel more comfortable and less intimidated.
Be Patient
Making new friends and becoming comfortable in a new environment can take time. Encourage seniors to take their time and not put too much pressure on themselves to make friends immediately.
Understand that it takes time for seniors to adjust to a new environment. They may need time to familiarize themselves with the layout of the community, learn about the various activities and services available, and develop a sense of belonging.
Recognize that some seniors may be more reserved or introverted and may take longer to open up and form connections with others. Be patient and give them the time and space they need to come out of their shell.
Be understanding of the fact that some seniors may be dealing with health issues or personal challenges that can affect their ability to socialize. Be patient and supportive of their needs.
Helping Seniors Stay Social
It's important for seniors' overall well-being and happiness to support them in socializing and avoiding isolation. However, keep in mind that each senior is unique, and what works for one may not work for another.
We can help seniors feel valued, connected, and engaged in their new community by being patient, understanding, and supportive.
We can also ensure that seniors have the opportunity to thrive and enjoy their golden years to the fullest by creating a welcoming, inclusive, and supportive environment. Book a tour with us if you'd like to learn more about our community and what we have to offer.