We know that aging can be an overwhelming and emotional process. A senior can feel like their life is changing at a fast pace, making it easy to surrender to aging. But we're here to tell you that some of the best years of their lives are still ahead of them.
As your loved one ages, it's important to remember that feeling satisfied and fulfilled is just as essential for their overall well-being as their physical health. Having a positive view of life can significantly affect their overall physical, emotional, and mental wellness.
By enriching a senior's life, we can help seniors have more energy, less stress, and even prevent cognitive decline.
So what can we do to help improve the quality of life for seniors and our older loved ones?
Daily Assistance
People of all ages rely on friends and family members for support in their daily lives, so it should come as no surprise that seniors need more assistance as they get older.
Getting help with daily needs such as grocery shopping, paying bills, or household cleaning can open up a world of opportunities for an older adult. It can help reduce the burden they feel, give them ongoing support, and free up their time, so they have more time to do the things they love.
Community & Social Interaction
Loneliness is an unfortunate part of aging and can have profound health effects. According to the CDC, nearly 25% of adults aged 65 and older are considered socially isolated. This is because older adults are more likely to experience factors such as living alone, the loss of loved ones, and illness.
One of the best things we can do to improve a senior quality of life is to promote community and social interaction in their lives. You can do this by:
Regularly scheduling time to spend with family and friends
Creating opportunities for them to engage with people around them
Signing your loved one up for community groups that interest them
Exercise Access
The connection between overall wellbeing and physical health is well established. Exercise can:
Boost the immune system
Lower blood pressure
Improve sleep quality
Improve heart health
Relieves anxiety & depression
Improves strength & stamina
Improve digestion
Beyond the physical and mental benefits, exercise can instill a sense of pride, independence, and confidence in a senior, helping them feel good about life.
Stay Mentally Fit
Just as physical exercise is a key component to improving quality of life, seniors need to stay mentally fit. Whether living in a senior living community or living at home, you can encourage your loved one to stay mentally fit by helping them:
Explore new hobbies
Join new community programs
Try new skills & experiences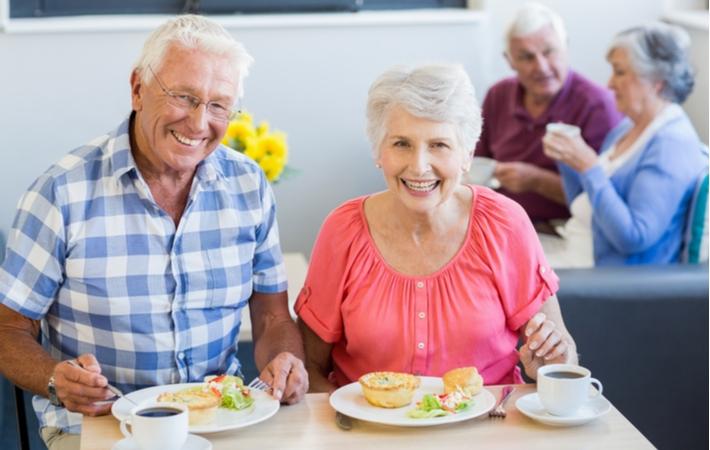 Meals
Good nutrition is essential, no matter what age you are. Eating proper, nutritious meals helps you stay energized, control your weight, and prevent diseases.
Healthy food can limit some of the age-associated changes that affect the quality of life. And, for seniors, eating a well-balanced meal is about more than just staying physically healthy.
Having good, nutritious meals for seniors allows the opportunity for:
Enjoying the pleasure of high-quality food
Daily structure surrounding meal times
Opportunities for socialization & togetherness
Less Housework
Maintaining a home is a big task for adults as they age. Housework can take up a lot of time and can stop older adults from participating in activities that improve their quality of life, such as:
Spending time with loved ones
Spending time outdoors
Engaging in their hobbies
Whether it's housekeeping services in a senior living community or getting additional help from loved ones, help with cleaning can significantly improve a senior's quality of life.
Have a Purpose
Everyone needs a sense of purpose to feel fulfilled and valued.
Unfortunately, many older adults start to lose their sense of purpose as they age. To improve quality of life, it is important to remind your loved one of their purpose. Some of the ways you can do this are to:
Ask for their help and opinion
Encourage them to share with others
Find environments where they feel belonging
According to the US National Library of Medicine, having a sense of purpose is strongly associated with older adults' positive mental and physical health outcomes.
Improve Safety
Feeling unsafe can lead to anxiety and can stop older adults from enjoying their lives. If your loved one is living independently, you can ensure they feel safe by:
Organizing their home to make it easy for them to move around
Label things to make them easier to find
Call a home safety company to perform a safety assessment
Safety is always a top priority in senior living communities, so you can have peace of mind knowing that your loved one feels safe and comfortable.
Treat & Recognize Mental Health Issues
Depression and other mental health disorders have a significant impact on the senior community. Research shows that roughly 7 million people aged 65 and older experience some sort of mental health issue.
Mental health issues can be caused by various factors and can significantly affect the well-being of older adults. To improve quality of life, it's important to recognize the signs of depression and get help from a healthcare professional.
Encourage Independence
As many people get older, they struggle to do many of the things they once enjoyed.
Anything you can do to help a senior lead a more independent life will be good for their mental and physical health in the long term.
Should You Consider a Senior Living Community?
Senior living communities are dedicated to helping seniors improve their quality of life through specific services, amenities, and programs. The goal of senior living communities is to help seniors:
Reclaim their independence
Improve their overall health & well-being
Improve their quality of life
Senior living communities know what it takes to improve a resident's quality of life, and all of the methods previously mentioned are incorporated into the care they provide.
Benefits of Senior Living Communities
Senior living communities offer multiple benefits and a lifestyle that keeps quality of life at the forefront. Some benefits of senior living include:
Safety
Convenience
Socializing
Fewer responsibilities
Access to healthy meals
Peace of mind
Engaging services & amenities
If you have any questions or concerns about improving the quality of life for seniors or how a senior living community could benefit you, please contact us today.