The Independent Route
If you've reached your golden years, you may be wondering what your next step is. Perhaps you've retired, your children have grown up and left the nest, and your family home feels a bit large and empty—and full of chores and maintenance.
If you're looking to enjoy your time and downsize your responsibilities, independent living may be an excellent choice for you. You can take advantage of world-class amenities, play a round of golf, and find a brand new network of friends.
Read on to discover your independent living options, as well as some of the factors to consider before you make your move.
Independent Living Options
Living at Home
One option in independent living is remaining in your current home. It's comfortable, it's familiar, and it's easy. There are even options for at-home care to come in if you need a bit of extra help around the house.
However, this option doesn't offer the same amenities, services, and time to relax as other independent living options. You're still going to have to take care of home maintenance, as well as all your housekeeping and chores. You may miss out on discovering a new sense of community.
Retirement Communities
Retirement communities are sometimes called age-restricted communities, 55+ communities, or active adult communities. These are generally designed with independent adults and seniors who don't want or need any extra assistance or medical care in mind.
Each retirement community can have different guidelines, restrictions, pricing, and amenities. If this is the option that feels right to you, be sure to look into both the offerings and bylaws of the community that interests you.
Independent Living
Independent living is created to cater to older adults who are still independent but want to spend their time socializing and focusing on fulfillment, volunteering, and hobbies over housework and home maintenance.
There are different levels of assistance available at each different independent living community. Many offer housekeeping services, a calendar of activities and events, and common areas designed for socializing. Some have some optional medical assistance, and many boast both private kitchenettes and on-site culinary staff.
Independent living communities can be apartment-style suites or individual homey villas. You can choose which suits you best. Are you looking to downsize? Would you like a yard and a garage? It's called independent living for a reason—the choice is yours!
The Importance of Starting Your Search Early
Starting to search for an independent living community early gives you a distinct advantage. You can seek out exactly what you want at your leisure. This helps you maintain your independence for as long as possible: you can pick the community that suits your needs now and can adapt to any future needs you may have.
When you find the community you like early—even if you feel it may be too early—you're setting yourself up for maintaining your freedom of choice and independence. In the face of an accident, illness, or another unexpected event, already having moved and settled into a community you love may reduce stress. Keep any family members you're close to up-to-date about your preferences and choices as well. If you intend for them to be partners in your care as you grow older, they should be aware of your wants and needs.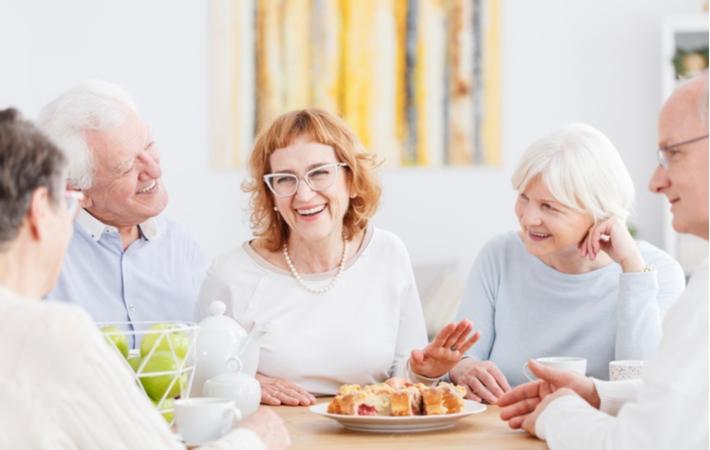 The Independent Living Lifestyle
Build a Community for Longevity & Quality of Life
Social isolation and loneliness can cause health problems and even shorten the lifespan. Thankfully, the opposite also seems true: building connections with your neighbors and fostering community ties helps keep people healthy, mobile, active, and prevents cognitive decline. A major perk of independent living is the welcoming, vibrant community just outside your front door.
Social & Recreational Opportunities
Imagine a lifestyle where you're free to spend your days on leisure, such as:
trying out new hobbies
taking exercise classes
chatting with loved ones over coffee
taking a relaxing stroll through garden paths.
That's the reality of life in many independent living communities.
Take a look at The Villages at River Club's activities calendar, for example! Book clubs, card games, exercise groups, spa days, even happy hour—there's a vast array of things to do and, as they say, variety is the spice of life.
Personal Care
Spend quality time on yourself! Many independent living communities offer services and amenities like spa and salon services, dining options, housekeeping, and laundry services. There may even be healthcare practitioners on-site should you need some extra assistance.
Maintain Balance, Strength, & Mobility
Take care of your body and keep fit with your friends and neighbors. Scheduled activities at independent living communities often induce different exercise classes. Try yoga, dancing, or any other classes planned to keep limber and maintain strength.
Build an active lifestyle by mixing activities like gardening, golfing, and enjoying a stroll through the grounds with companions into your days.
Living Your Best Life
In an independent living community, you'll come to understand why they call 55+ "the golden years." With freedom from mundane chores and maintenance tasks, you can spend your days focusing on fulfillment, personal growth, building relationships, and giving back to the community.
Spend your time your way. Visit schools to volunteer, sharing your experiences and skills with the next generation. Golf. Cook. Read a book. Life is yours to enjoy!
Plan and Prepare
Finding an independent living community that suits you just right takes some prep work. It's helpful to know exactly what you're after. Ask yourself questions such as:
What amenities & services do I need now?
What amenities & services might I need in the future?
Where do I want to be located? Near family? Someplace warm? Close to my current community?
What does my budget look like?
What type of suite layout suits my lifestyle?
Can I explore my favorite hobbies?
What is included in the cost of your suite?
The answers to these can help you build a list of your needs, wants, and nice-to-haves. From there, it will be easier to sort out the pros and cons of any community you consider.
Independent Living for an Enriched Life
Independent living communities offer a host of benefits for you to take advantage of. Investing time to find a community that fits you just right can be seen as an investment in your future, happiness, and wellness.
If you'd like to explore your options at The Villages at The River Club, get in touch! We're always thrilled to hear from potential community members.