Age brings many changes, and this may include where your home is. Many older adults embrace a change of scenery to live their life without needing to maintain their homes. Senior housing options are popular for this reason; you can join an active community, creating new friendships and memories.
With so many options, where do you begin to look? Consider this your guide to senior housing, including the common options, what they offer, and what you should consider.
What is Senior Housing?
Senior housing means what you think it does, housing options for older adults. Our needs change as we age, and many older adults look towards downsizing their large homes into smaller apartments or villas with added benefits. Some seniors may need more support with daily tasks, such as cooking, cleaning, or medications.
Everyone has unique needs, so there are many different housing options for seniors. No matter the housing option, all of them seek to provide the required care for each resident. Some common types of senior housing include:
Independent living apartments
Independent living communities
Assisted living
At-home care
If you're looking into housing options for yourself or a loved one, what kind of options are there? What are the benefits of each type of housing, and what option is best?
The Types of Senior Housing
Choosing the best living situation can be difficult if you don't have experience. With so many options to choose from, how do you make a decision? Breaking down your or your loved one's needs can help specify what you're looking for with your senior housing.
Before you make any final decisions, let's look at some common types of senior housing options. Knowing the benefits and services each option provides can help narrow down your search.
Independent Living Apartments
Independent living is a great choice for older adults looking to lighten their load and enjoy life. There are many independent living options, but many choose to live in apartment-style housing. These apartments are senior-friendly, offering compact designs, easy accessibility, and no needed maintenance.
Besides the benefit of having everything you need in a spacious apartment, independent living suites typically have many amenities for you to utilize. These can include:
Bistros & lounges
Hair salons
Movie theaters
Fitness centers
Meal plans
Game rooms
Outdoor relaxation
Independent living is great for social butterflies; many communities offer planned activities, or you can plan your own with friends. You don't need to follow anyone's schedule but your own; independent living lets you live your life the way you want.
You don't need to commit to anything without seeing your options first. Contact a community you're interested in to book a tour and see things for yourself.
Independent Living Communities
Independent living is a broad term, and there are several options to choose from. If apartment-style living isn't for you, community-based homes offer more privacy.
Not everyone wants to be in an apartment, so many independent living communities offer homes and villas. You can have your own home and privacy with the benefits of independent living.
You don't need to worry about maintenance, but you can still enjoy a fully accessible garage, kitchen, bathroom, and everything else your home has to offer. You can connect with like-minded people in your community and enjoy the various amenities senior living provides.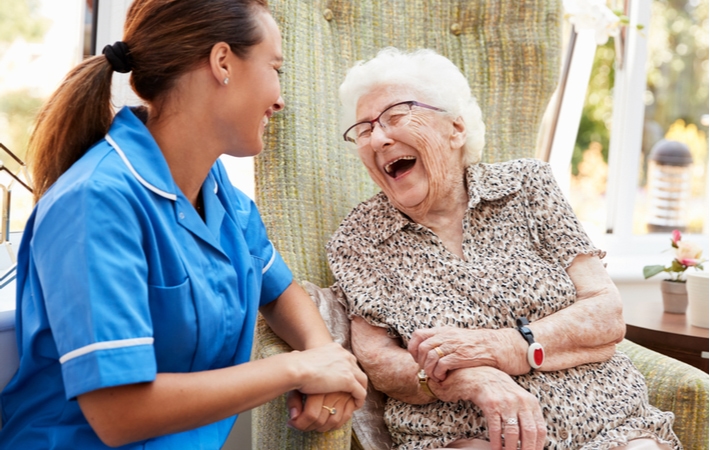 Assisted Living
While independent living is perfect for many older adults, it may not be ideal for someone requiring more hands-on care. Assisted living can offer the daily care someone needs if they have trouble managing their daily tasks. These housing options typically provide:
Prepared meals
Assistance with eating, bathing, dressing, & other tasks
Housekeeping
Transportation
Health & medical services
Emergency call services
Medication management
Laundry services
Assisted living provides the socialization benefits of independent living with more personalized care.
Assisted living may be a good option if you or your loved one are worried about safety, feelings of isolation, or maintenance around the house. Having someone around to help can make a difference.
At-Home Care
Known as aging in place, some prefer to stay in the home and community they've known for years. The relationships you or your loved one have created are irreplaceable. Sometimes, staying at home is the best option, but no one has to do this alone.
Many places offer at-home care services for seniors. You don't need to move to have your needs supported. These care services can include:
Bathing assistance
Laundry services
Trash removal
Bed making
Escorts to meal
Cleaning services
Medication reminders
Transportation
Daily check-ins
If someone isn't ready to leave their home, at-home care is a great housing option. With the right care, you or your loved one can continue to live in a familiar community. It doesn't matter which senior housing option you choose, as long as it's the right choice for you or your loved one.
Find the Right Choice
Your or your loved one's social, physical, and mental health needs should guide the decision-making process. There's no choice better than the rest; the best choice is the one that suits your needs. If you're interested in senior living, contact your local community and see what they have to offer.