Life is all about the little things. These can be the small moments we share with the ones we love, but they can also be the things we collect over time. And let's be honest, every household probably has a closet or 2 chock-full of knick-knacks, decorations, collectables, and heirlooms. But as our parents grow older, these collections can become too much of a burden to keep holding on to, meaning it might be time to start thinking about downsizing the things they have to the things they need.
Downsizing is different for everyone, as everybody holds different values to the things they own. One parent might wish to hold onto something because of historical or sentimental value, while others might be more willing to let items go if it means securing a more comfortable lifestyle. Whatever their feelings, downsizing is essential to leaping into an easier, more senior-friendly way of life.
Today, we'll look at how you can help your parents downsize their belongings so they can worry less about the clutter in their homes and focus more on moving into our care in comfort.
It Starts with a Conversation
Before you can start the act of downsizing your parents' home, you first need to talk with them about it.
It's always best to start the conversation gently and express why you think downsizing might be a good idea. For example:
Your parents may need a smaller place to live because it's safer and easier to move around.
Your parents might consider independent living and can't take all their belongings with them.
Your parents' current home is getting too overcrowded and stuffed, affecting their safety as they grow older.
Be honest with your feelings, but don't approach the topic like your parents are doing something wrong with how they live. It might take a couple of conversations to bring them to the idea, but most people start seeing the benefits of downsizing as they grow older.
Plan Ahead, But Have an Open Mind
Once your parents get on board with the idea of downsizing, the next step is to start planning the process. However, it's important to understand that your parents might hold a different value for things you might think it's best to get rid of or give away.
In an excellent article written for the Washington Post, professional organizer Nicole Anzia says, "When people are downsizing, they're not only saying goodbye to valued possessions, but they're also saying goodbye to a certain part of their life. That is hard."
Have empathy for how your parents might feel about the things they own, and spend the planning process looking for ways to prioritize some items over others.
While planning, it might also be a good idea to look at what you may need to help you start downsizing your parents' home. This can include:
Friends and family members willing to help with downsizing.
Securing a vehicle that can help load and move various items securely.
Renting a storage unit to help create space while downsizing other areas of the home.
Creating a timeline or schedule of when you'd like to have the downsizing process completed.
Once you have these preliminary steps taken care of, you can finally get down to the nitty-gritty of downsizing.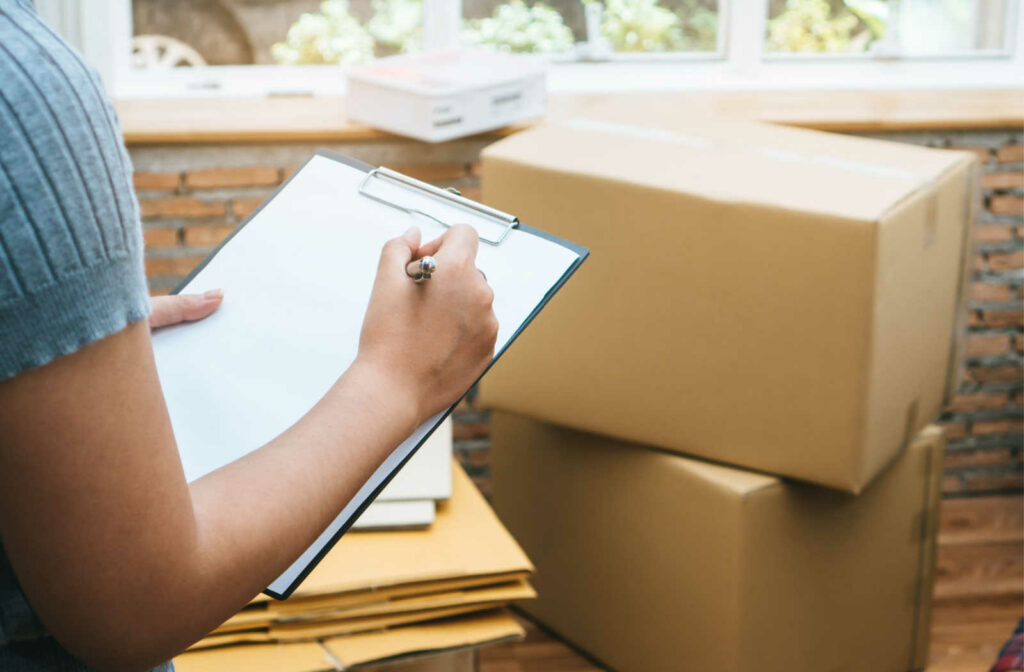 Listing & Sorting
To start downsizing, we recommend making a to-do list of how you want to approach each area of the house and which items should be categorized as what.
If you're working alone or in a small group, it might be easier to approach each room individually while gradually making your way through the house. If you have a few people to help, you can delegate certain areas of the house depending on what you'd like to sort through first. For example:
Bedrooms are great places to start sorting clothes, linens, and blankets. There are usually a few different bedrooms in every home, but many items may be the same, making it easier to sort through what your parents want to keep.
The kitchen may have several sentimental items your parents might want to keep, like family dishes, cups, and utensils. However, it may also have plenty of things you could recommend getting rid of or giving away, like Tupperware containers or various appliances.
The living room is home to many family heirloom items, so it's important to take your time while downsizing the living room so you can help determine what your parents may like to keep.
The basement or attic is primarily used for storage for many parents and can take a while to sort through. Sometimes, it might be best to sort through these storage areas last as they will take the most time to work through.
Paperwork can be difficult and confusing to organize and sort, so we recommend doing this last. Paperwork can include tax returns, income statements, credit cards, bank accounts, registrations, and so much more. You can always come back to the paperwork after the downsizing process.
What to Do With It All?
To some, downsizing may be synonymous with "throwing out" many of your parents' items, but there are always more options than the garbage or the dump.
For sentimental objects like family heirlooms and collectibles, talk with your family or friends to see if they would be interested in taking care of them. Remember, some of these items are part of your parents' history, so throwing them away would be like throwing away cherished memories to them.
For objects that have some monetary value, maybe consider selling them on an online marketplace or in a garage sale. You can then use the money you collect to help fund your parents' new lifestyle, whether they plan on moving into a smaller home or an independent living community like ours.
What's important, though, is that you recognize that all the "stuff" your parents have is more than just stuff; it's their history. Take the time to be respectful of their needs and always remember to approach the process with an open mind and open heart.However, moving into an independent lifestyle doesn't mean your parents must leave the past behind. Speak to our caregiver team and find out how we can help support your parents' life and history as they transition into our community today!