Access to appropriate exercise is a great way for seniors to improve their quality of life as they live out their golden years. It's great for physical and mental health and provides opportunities for spending time with friends.
However, as we age, our bodies begin changing, and they simply do not have the strength or endurance they once did. For this reason, the focus must be on appropriate exercises because there are certainly some that should be done in moderation and others that should be avoided altogether.
How Much Is Too Much?
A study revealed startling evidence that vigorous exercise of more than 7.5 hours per week increased the risk of heart damage, coronary artery calcification, or rhythm disorders.
This study was not aimed at older adults, though. The people who were at risk were typically competitive athletes that were performing at high levels. On the contrary, this study actually demonstrated that a senior won't exercise hard enough to develop these potential health issues.
Regarding aging adults and exercise, how much they should work out will depend on each person individually. A senior who has been in excellent shape their whole lives will likely be able to handle and benefit from more exercise. Whereas someone who hasn't spent much time working out may have a lower tolerance for it as a senior.
Some things that could indicate a senior is getting too much exercise include:
Unable to exercise at their usual level.
More discomfort than normal (a senior exercising shouldn't result in much discomfort if any).
Sustaining injuries while exercising.
How Much Is Enough?
While there's no one-size-fits-all answer for how much exercise is too much, the CDC has great recommendations on how much a senior should be doing. According to their research, the average person over 65 needs about 150 minutes a week of moderate-intensity workouts. This can be things like fast walking or light water aerobics.
Suppose they prefer (and are able) to do more vigorous exercise activities like jogging, hiking, or running. In that case, the senior can do 75 minutes per week instead. This translates to roughly 15 minutes of vigorous exercise per day, five days a week. In addition to these physical activities, the CDC also recommends that both male and female seniors should include strength-building exercises at least 2 days per week and at least 3 days of balance-building exercises.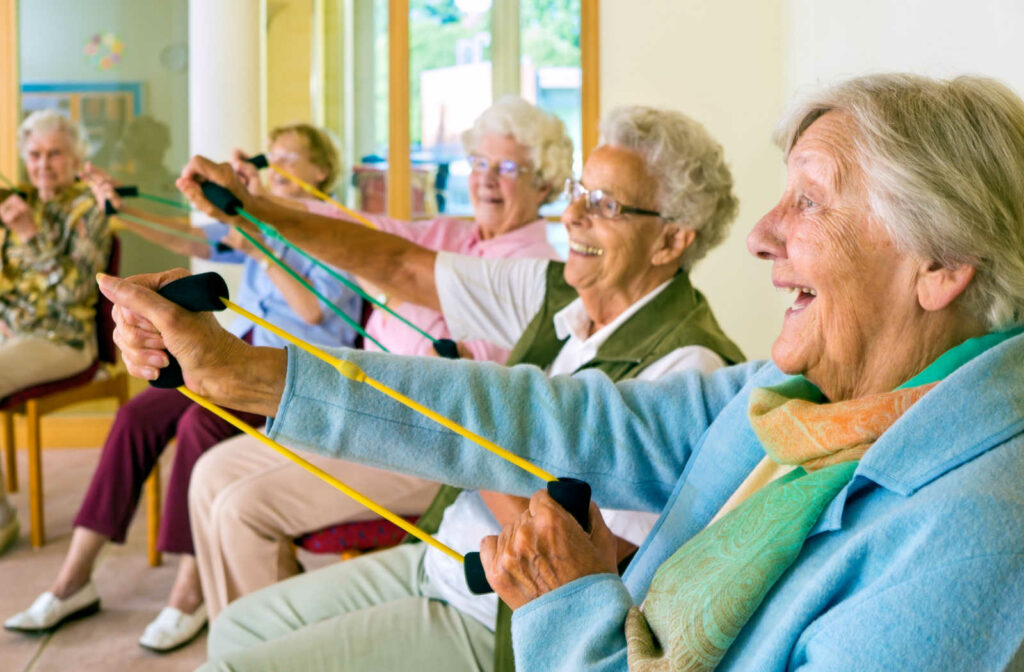 Healthy Forms of Exercise
One of the keys when looking for an assisted or independent living community is finding one that can cater to the desired (or required) exercising needs. Maybe that's having on-site fitness rooms, outdoor walking trails, or near things like golf courses or swimming pools.
Here are a few great ways that older adults can stay fit and healthy as they age:
Water aerobics: This is an extremely low-impact form of exercise that can help improve strength, balance, and flexibility. This is an especially great way to exercise for seniors struggling with arthritis or joint pain.
Resistance bands: The great thing about resistance bands is they don't require vigorous exercises to be effective. And older adults can even use them while sitting down if they have trouble standing.
Yoga: You may be thinking—how can a senior do yoga? And while many forms of yoga could be difficult for a senior, chair yoga is perfect in many situations. This gives the person a good workout that improves flexibility without a lot of the body stresses that can accompany regular yoga.
Walking: A simple and effective exercise that people of all ages can do is walking. A great thing about walking is that it provides an excellent opportunity to build friendships in a community setting.
Body weight workout: These are a great way to build strength and endurance and are highly effective. This type of exercise may not be suitable for all seniors. However, it's a good form of exercise if they're able.
Benefits of Appropriate Exercise
Exercising can benefit us our whole lives, but there are some ways that an older adult specifically can benefit from exercise:
Improved mental health: Depression is common in aging adults, and this is something that regular exercise can help with.
Disease prevention: With one Google search, you can bring up many things that regular exercise helps prevent, such as diabetes or heart disease. Exercise has even been linked to assisting slow or prevent dementia.
Less chance of injury: When our bodies are in good shape, we're less prone to injuries. In addition, balance exercises help prevent older adults from falling, which can be deadly in some instances.
Social connection: Loneliness can sometimes creep up on a senior, even if they're part of a vibrant community. But with exercise activities like walking or chair yoga, these same adults have the chance to spend quality time with their friends—all while staying healthy.
Find Out How Senior Living Encourages Exercise
Independent living is just that—independent. However, finding a community that will support you or your loved one in staying healthy is important. If you'd like to learn more about how The Villages at River Club can provide a comfortable yet active lifestyle, give us a call. Our staff is happy to take you on a community tour and answer any questions you have.