Joining a Retirement Community
There are many reasons to join a retirement community. The availability of services and amenities is only one benefit. Older adults can enjoy a variety of activities and events. You've probably heard or read a few things about what to expect, but what is living in a retirement community really like?
Community Lifestyles
The daily activities and events present in a retirement community largely depend on the lifestyle. As a result, retirement communities come in all shapes and sizes, literally and figuratively.
Senior living facilities that offer multiple levels of care, such as assisted living or memory care, have specialized wellness programs. For example, the therapies and activities may include exercises for enhancing memory or improving residents' abilities to complete ADLs (activities of daily living).
A community offering independent living will focus on activities, classes, and clubs that emphasize independence. For example, the community might organize more outings or group activities that don't require supervision. Independent living allows seniors to set their schedule, whether they like to stay busy or plan activities at a more leisurely pace.
The location and size of the community can also affect the types of events, groups, and activities organized. Notably, the average size for a residential senior care community is 33 residents but can range from as low as 4 to over 50.
There are advantages and disadvantages to every community size. For example, larger communities typically offer more diverse healthcare options, whereas smaller communities offer more personalized care. While more options may seem like the better choice, it may not be beneficial if you don't use all the available services.
When choosing a retirement community, seniors need to consider what services they need right now and what they may want in the near future. Touring the community and residences of different sizes can help you determine which community size and location feels most like home.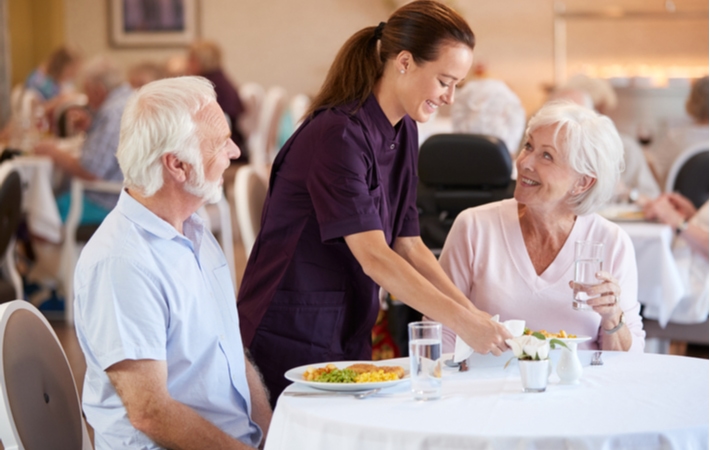 Community Services & Amenities
What retirement community residents do in their daily lives can depend on the services and amenities available in their community. The available services can differ but usually include:
Concierge services
Dining services
Home maintenance & repairs
Housekeeping & laundry
Social activities & outings
Transportation services
The amenities can also change depending on the facility, but some examples include:
Billiards or game room
Fitness center
On-site hair salon
Library & puzzle room
Theater room
Communities may also have partnerships or offer memberships with local businesses, such as golf clubs or museums. Although many retirement communities also have walking paths, gardens, or green spaces, they also have scheduled outings for parks or unique areas outside the facility grounds.
A Day in the Life
A day in the life of a retirement community member is a personalized experience. The resident may have a quiet morning, enjoying brunch with friends, or they might start their day off with a group hike. In the afternoon, they might volunteer, meet with their hobby club, or join an exercise class.
Residents of a retirement community can schedule their day to meet as many people as possible, focus on wellness, or participate in their favorite pastimes. The community may host or organize a wide variety of events, classes, activities, groups, and trips. But residents can also make their own plans.
Some of the activities and events planned can depend on the community, including their location. For example, a group beach outing is more likely if there's a beach nearby. Likewise, movie nights are more common if the facility has a theater room.
The availability of clubs and hobby groups can depend on the facility, but it also depends on the community culture. A retirement community is more than a housing complex. It's shaped by the people who live there. So you may meet neighbors that love critiquing films while another group is dedicated to tap dancing.
Most seniors choose to move into a retirement community between 74–85, although many retirement communities are 55+ or 65+. Although age doesn't determine the types of activities you enjoy, it can change the type of interests and activities you encounter.
Intergenerational friendships can encourage older adults to expand their roles and pursuits as they learn from each other. For example, you may discover you love the music your older or younger neighbors loved. You might inspire travel plans to places you and your neighbors have never visited or enlist a well-traveled neighbor as a tour guide.
One of the most significant benefits of moving into a retirement community is the opportunity for social connections. Senior living communities encourage socializing with abundant activities and a close-knit culture developed between neighbors. Social connection positively affects health—emotionally, mentally, and physically.
The more friendships and connections you form, the more likely you'll enjoy joining physical activities. Whether it's a Nordic walking group or a gardening club, the diverse social opportunities can inspire seniors to improve their quality of life.
Visit Our Community
Now that you've read a little more about what to expect, we welcome you to see for yourself! Scheduling a tour can allow you to see more of what the community offers, including meeting the team that helps shape community events and services. We're committed to creating a personalized experience for every resident. When you join our community, you'll spend more time doing what you love. Contact the Villages at River Club to learn more about our community.