As we age, the idea of transitioning to senior living often comes to mind. But here's the thing: deciding to embrace this new chapter sooner rather than later can actually bring a lot of advantages and improve overall quality of life.
From social gatherings and access to medical care to the support of fitness communities and meal plans, there are numerous advantages to enjoy at a senior living community. And perhaps the most important benefit is they provide peace of mind for both residents and their families, ensuring their loved ones receive the necessary care and support they deserve as they grow older.
Social Opportunities
Moving to a senior living community comes with a major perk: a wealth of social opportunities. Human connection and socializing are both vital for maintaining a sense of belonging.
As people age, it's common to develop feelings of isolation, loneliness, or depression. By moving to a community with a focus on building social connections, seniors can foster relationships and find a sense of connection with those around them.
These interactions stimulate the mind, bring enjoyment and entertainment, and can help combat cognitive decline. Conversation and human connection stimulate the brain by helping recall memories, using the parts of the mind associated with problem-solving and decision-making. They can help lower the risk of developing certain mental health conditions.
A Healthy Lifestyle
Senior living communities are committed to promoting a healthy lifestyle for their residents. These communities offer access to all sorts of services and amenities, like:
Fitness centers
Fitness classes or programs
Wellness programs
Nutrition classes
Meal plans for a well-balanced diet
They also offer classes and options for residents to pursue new interests or pick up a new hobby, allowing them to find a new pastime while maintaining their overall health.
Senior living communities also prioritize nutrition by offering prepared meals that suit all kinds of dietary needs, designed so residents can receive the nutrition they need to be healthy. There are often options for snacks to be brought during the day as well!
Access to Health Care
aving access to high-quality healthcare is another compelling reason to consider transitioning to senior living earlier. Senior living communities have dedicated on-site teams that receive specialized training and possess extensive knowledge in caring for their residents. This tailored expertise ensures that each individual in the community receives the specific care they need to maintain their health and well-being.
Healthcare team are often trained to assist residents with:
Medication management
Health monitoring
Emergency care
Physical and mental therapy
Having medical professionals on-site in senior living communities ensures quick medical attention and assistance for residents, bringing peace of mind to both residents and their families.
Get the Right Care
Senior living communities offer a range of care options to meet each resident's needs. Whether someone needs assisted care to help them with daily tasks, or more specialized care to combat cognitive decline, these communities custom-tailor a plan for each resident to receive the level of care they need for a high-quality life.
The teams work closely with their residents' families and physicians to develop personalized care plans. This allows the community to proactively plan to treat any medical conditions or prepare their homes to be easily accessible.
Peace of Mind
By deciding to move into a senior living community sooner rather than later, seniors can experience peace of mind by knowing they're getting the care they need. These communities prioritize safety, security, health, and well-being while going out of their way to help their residents live their lives to the fullest while maintaining their independence.
Knowing that your loved one lives in a community that focuses on their well-being can help alleviate your own worries. When your loved one has access to high-quality medical care, social opportunities, and other programs and amenities, you can rest easy knowing they're well cared for.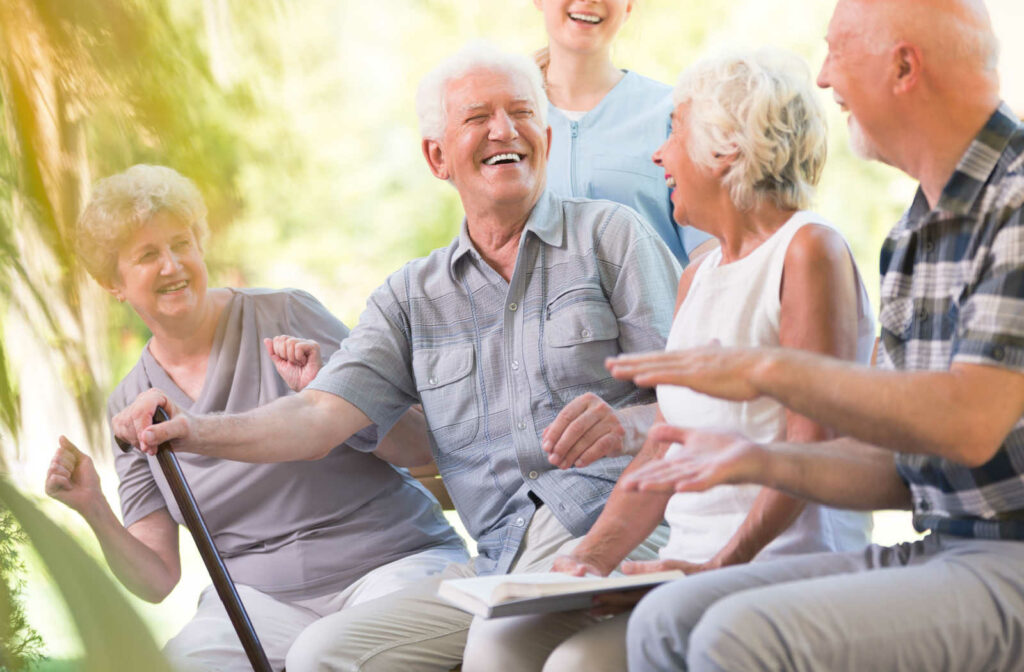 The Advantage of Senior Living Communities
Senior living communities provide many benefits, from social gatherings and hobby classes to fitness classes and nutritious meals. The staff working in these communities truly go above and beyond to care for each resident and maintain their quality of life, giving families peace of mind.
At The Villages at the River Club, we understand how important this decision is for you and your family. Schedule a tour for you and your loved one today, and come see for yourself the benefits that senior living communities can provide.