As people reach retirement age, they often reassess their living situations and consider whether their current home is still a good fit for their needs.
While some people may have always imagined living in their home for as long as possible, others may decide that it's time to move on and sell their home for a variety of reasons.
Retirees may decide to sell their home for several reasons, including:
Change in Health or Mobility
One reason retirees may choose to sell their forever home is a change in their health or mobility. As people age, they may experience physical challenges that make it difficult to navigate their current home.
This could be something as simple as stairs becoming more challenging or needing a single-story home to avoid stairs altogether. In these cases, selling a forever home and moving to a more accessible property such as a retirement community may be the best decision for the retiree's long-term well-being.
Accessibility can be an important factor for retirees to consider, as it can make daily tasks easier and help prevent accidents and injuries.
Change in Financial Situations
Another reason retirees may sell their homes is a change in their financial situation. As people age, their income may decrease due to retirement or other factors.
This may make it difficult to afford the maintenance and upkeep of a larger home, leading some retirees to downsize to a smaller, more affordable property.
In addition to the costs of maintaining a larger home, property taxes and insurance may also become burdensome to retirees on a fixed income. Downsizing can help free up extra money for other expenses or leisure activities.
Downsizing to an Appropriate Space
As children grow up and move out, the need for a large family home may no longer be necessary.
It may be a practical decision for a retiree to sell their home and downsize to a smaller property. A smaller space can be easier to maintain and may also be more suitable for a retiree living alone or with a spouse.
Change of Scenery
After living in the same home for many years, many retirees feel a strong desire for a new environment or a different location.
Selling the home and moving to a new location may be the perfect opportunity for a fresh start.
Moving can provide: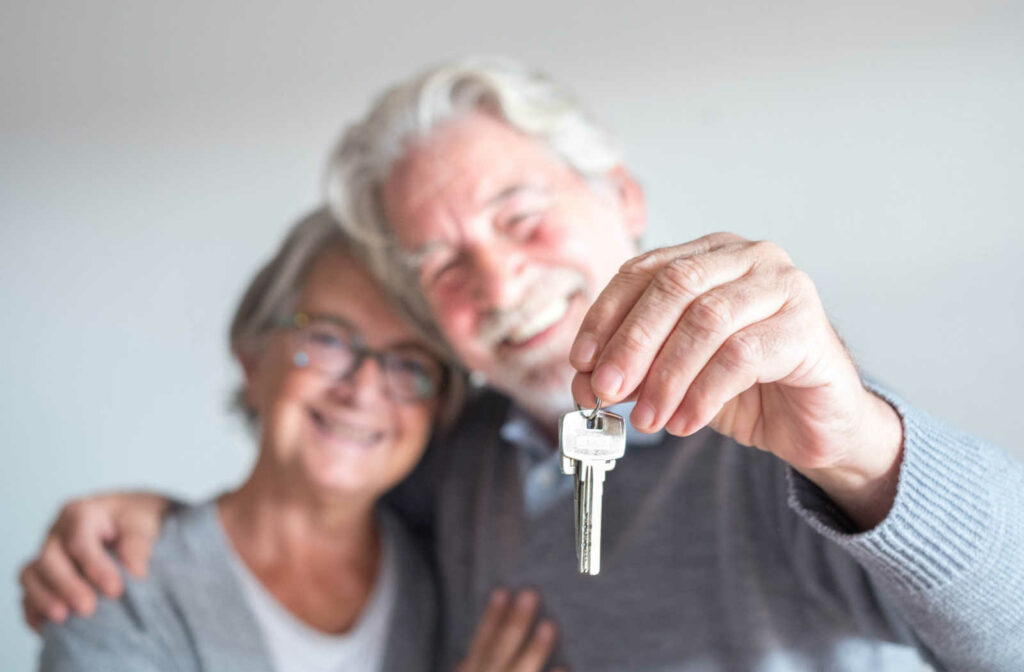 Wanting to Move to a Retirement Community
One reason retirees may choose to sell their forever home is to move to a retirement community. Retirement communities are designed specifically for older adults and often offer a variety of appealing amenities, activities, and services.
These communities can be a great option for retirees who want to be more social and have access to additional support and assistance as they age.
In a retirement community, like The Villages at the River Club, retirees can enjoy the benefits of shared common areas, organized activities and events, and access to healthcare and other services.
Many retirement communities also offer independent living options, providing residents with their own private space while still enjoying the benefits of community living. For some retirees, the prospect of living in a retirement community can be a more appealing option than staying in their own home for a few reasons:
They may feel lonely living alone in their own home and may want to be around other people their own age.
They may no longer want the responsibility of maintaining a home and may prefer the convenience of having someone else take care of tasks like cutting grass and appliance repair.
They may want the safety of having healthcare and assistance services they need nearby in a space where they are treated like family.
Independent Living at The Villages at the River Club
There are many reasons why retirees may choose to sell their homes. Whether it's a change in health or mobility, financial considerations, a desire for a smaller home, or a desire for a new location, selling a forever home can be a practical and fulfilling decision for many.
Moving to a retirement community can be a good option for retirees who want to be more social and have access to additional support and assistance as they age.
It's important for retirees to carefully consider their needs and priorities when deciding whether to sell their home, and to seek the advice of a financial planner or real estate professional if necessary.
If you have any questions about the amenities available at the Villages at the River Club book a tour with us to see our community in person! We're happy to discuss how our community can give you the life you deserve when you're ready to transition to a new living space.